West Coast Poly's SUMMER SAVINGS
Limited Time Offer Ends Dec 22nd 2023
Helping you save this summer! Buy one of our selected water tanks options and receive a FREE Onga JMP100 Pressure Pump – SAVE $660
…or you can choose the option to UPGRADE to the Onga Blazemaster B55H Fire Pump for only $429. (RRP $1,947 Inc GST)

*See pump details below. All prices include GST.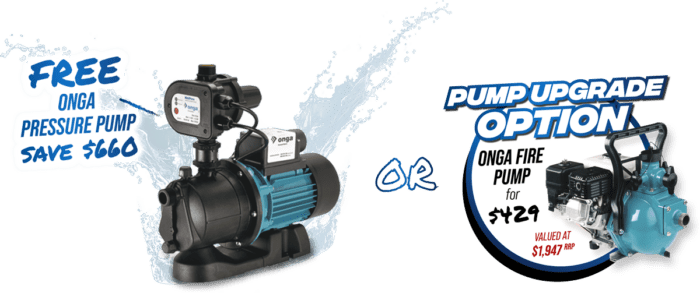 Your tank/s include FREE DELIVERY & FIT OUT to your property within 800km of Perth, with efficient service, fast turn-around, and standard fittings installed into the tanks on site so fit-out is to your requirements.
Our ISO 9001 & Watermark certification gives added assurance that our service and manufacturing practices are of the highest standards. All tanks are made with materials that comply with Australian Standards AS4020 for potable (drinking water) and AS2070 for food contact use.
West Coast Poly water storage tanks are available from your local agent!
If you need further information, please send us an email or give us a call at the office on 9456 5888.


Click to see more of our Product Range
AGRICULTURAL  |  RESIDENTIAL  |  LIQUID FERTILISER  |  CARTAGE  |  DIESEL  |  TROUGHS
ONGA JMP100 Pressure Pump – DOWNLOAD FULL DETAILS

ONGA BLAZEMASTER B55H Fire Pump – DOWNLOAD FULL DETAILS
Click here for further terms and conditons.