Rainwater Harvesting
Water is precious, save it, use it.
Great benefits are achieved with rainwater harvesting systems plumbed to the toilet and/or laundry using rainwater for your appliances to supplement mains water.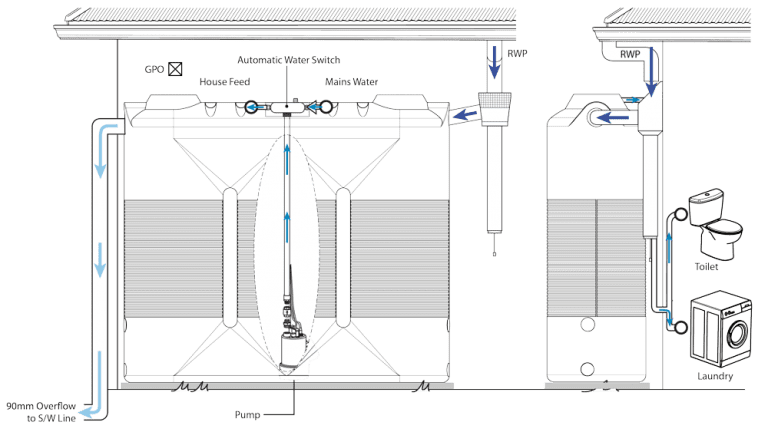 RAINWATER HARVESTING INCLUDES
A Divertron 1200 submersible pump
Roof mounted automatic water switch controller
Flexible stainless steel "quick" connection hoses
Mains water isolation valve
Standard 90mm overflow port
250mm leaf strainer inlet
250mm screwed inspection hatch
RAINWATER HARVESTING SYSTEM WITH TANK
| Volume | Diameter | Wall Height | Height/Inlet | Price Inc GST |
| --- | --- | --- | --- | --- |
| 2500L-DRS Round | 1.42M | 1.62M | 1.86M | $2,354 |
| Volume | Height/Inlet | Width | Length | Price Inc GST |
| --- | --- | --- | --- | --- |
| 1500L-DRS Slimline | 1.86M | 0.80M | 1.40M | $2,354 |
| 2500L-DRS Spacesaver | 2.08M | 0.715M | 2.35M | $2,750 |
| 3000L-DRS Terrace | 1.99M | 0.80M | 2.52M | $2,860 |
*Pricing for Rainwater Harvesting Systems only. Installation is an additional cost and is set out below, pricing applies to Perth Metro only. Other tank sizes are available on request.
INSTALLATION RAINWATER TANKS
Rainwater Harvesting Installation Provisions
Installation of West Coast Poly's Rainwater Harvesting Systems to a residential home in the Perth Metropolitan Area includes connection of RWP within 2 metres of the tanks location, a first flush water diverter kit and leaf eater pre-screening device, connection of the copper cold water line to the rainwater switching gear within 1 metre of the controller, overflow connected to the storm water line within 1 metre of the tank (if provision is provided), commission system and test at completion of installation, and delivery within the Perth Metropolitan Area.
NOTE: Prior to the installation of the rainwater harvesting system you will need to provide:
An external copper (13mm) mains water line for connection of the roof mounted automatic water switch controller.
A flat level site. Base of tank must be fully supported across its entire site.
Weather proof GPO power point
Items 1,2 & 3 noted above are not included in pricing supplied for rainwater harvesting systems and installation, see Rainwater Ready Provision for Automatic Rainwater System for full details)
| Installation | Price Inc GST |
| --- | --- |
| Install Rainwater Harvesting System as per provision above* | $979 |
Contact our professional and knowledgeable staff for assistance and advice setting up your rainwater harvesting system.
A sensor in your rainwater tank automatically switches to mains water when your rainwater is low and back to rainwater automatically once your tank water is replenished. Technology does the work for you, you won't know which water you are using, but you will always be using your rainwater first. The greatest water savings are made by supplying appliances like washing machines and toilets, which use large volumes of water all year round. These two items (toilets & washing machines) use around 250 litres per day or half of all the water consumed in the average household.
The planning stage is the ideal time to discuss your rainwater harvesting needs with your builder. This advanced planning will reduce costs by having the pipework, GPO and base for tank in place prior to installation of your rainwater harvesting package. Building Schematics and Specifications are available for your builder on request.
Plumbing a rainwater harvesting system into an existing house can be done. Older homes with the copper piping running along the outside of the walls is reasonably simple but the modern home with pipework running in cavity walls or through the roof area involves a more planning and labour, but can be achieved. West Coast Poly has qualified plumbers that can quote these installations.
Rainwater harvesting systems are increasingly being incorporated in multiple occupancy commercial and public-sector developments such as office buildings, schools and hospitals.
Such buildings frequently have large roof areas which of themselves present storm-water management issues; collecting this roof water for re-use helps to alleviate this problem.
Conversely, buildings with multiple occupancy have a high, and potentially expensive, demand for toilet flushing water; using harvested water rainwater for this purpose therefore makes excellent sense.
Distribution centres, too, with their requirement for fleet vehicle washing are an excellent example of the cost-effective and conservation application of rainwater harvesting.
Any building with a large roof and a high demand for non-potable water can at one and the same time use rainwater harvesting to help solve environmental storm-water management issues and make very substantial savings on the use of mains water.
Schools and educational establishments can efficiently manage their water consumption by installing rainwater harvesting systems, reducing usage from the local mains supply and make a significant contribution to a sustainable future.
West Coast poly offers a range of rainwater harvesting systems and can offer expert advice on system specifications that will ensure the most cost-effective rainwater harvesting system is designed for their project.
BLACK
(Night Sky®)

SLATE GREY
(Woodland Grey®)

ARMOUR GREY

MOUNTAIN BLUE
(Deep Ocean®)

RIVER GUM
(Wilderness®)

MIST GREEN
(Pale Eucalypt®)

RAVINE
(Gully®)

AUTUMN BROWN
(Jasper®)

AUBERGINE
(Loft®)

GULL GREY
(Shale Grey®)

LIGHT GREY

WALLABY

HERITAGE GREEN
(Cottage Green®)

SMOOTH CREAM
(Classic Cream®)

MERINO
(Paperbark®)

WHEAT

BEIGE

HERITAGE RED

BASALT

METAL GREY
(Ironstone®)

CHARCOAL
(Monument®)

TORRIS BLUE

STORMEDGE BLUE
(Blue Ridge®)

TERRANE
(Terrain®)

WHITE SURFMIST
(Surfmist®)

DUSK
(Evening Haze®)

DESERT HAZE
(Sandbank®)

BIRCH GREY
(Dune®)

INLET
(Cove®)

EARTHTONE
(Bushland®)

TIDAL GREEN
(Mangrove®)

BRONZE OLIVE
Colours shown are an indication only, colours may vary. If colour required not shown, contact us for more options.
WE SET THE STANDARD HIGH
WHY CHOOSE WEST COAST POLY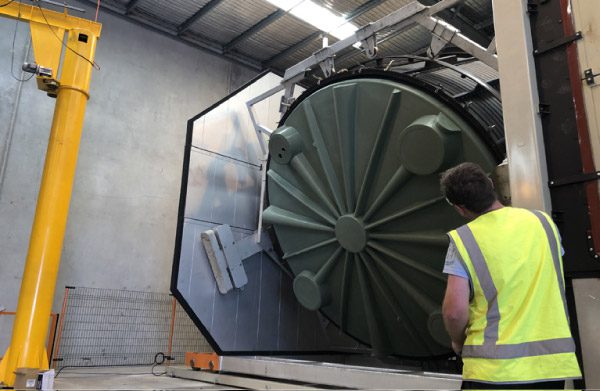 West Coast Poly has earned an impressive reputation as one of the leading and largest manufacturers of polyethylene storage tanks in Western Australia.
You will be dealing with a company with advanced manufacturing systems and unmatched manufacturing ability.
Talking with experienced local personnel who understand the home-grown conditions for the rural, residential and mining/industrial sectors of Western Australia.
Assured that our service and manufacturing practices are of the highest standards, guaranteeing a top-quality, well-designed product.
RESIDENTIAL
TANK DELIVERY
Available to collect yourself or we offer an efficient delivery service direct to you for only $88.
For more information and details, please see the Delivery Section
DOWNLOAD OUR LATEST
2022 PRICE LIST
Grab a copy of our current Price List here! All our products, pricing and dimensions at your fingertips.