Unmissable Savings during Field Day Season 2023
MINGENEW | DOWERIN | NEWDEGATE
New products, special pricing, prizes to be won….. and our Brand Ambassador Josh Kennedy will be on site at Dowerin on Wednesday the 30th of August. Giving you the chance to not only meet the West Coast Eagles leading goal kicker but also buy a tank off JK himself! It's all happening at West Coast Poly!
There's great savings on our water storage tanks, grab a 23,000L for only $3,289 Inc GST, a saving of $308 or go bigger with the 50,000L for only $8,789 Inc GST and save $308! Our large capacity tanks range from 4,500L up to 50,000L and pumps and accessories are also available.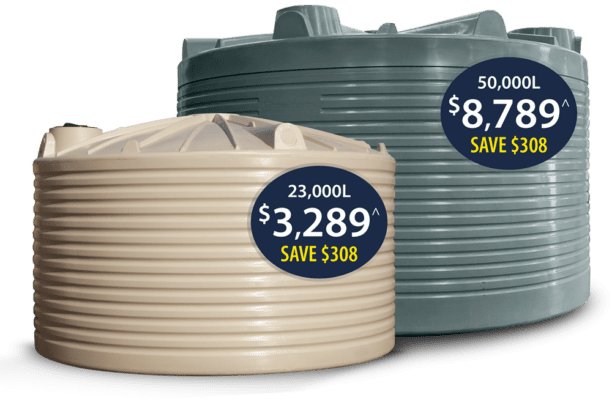 We will be bringing our Putting Challenge to the field days this year! Place your order on-site at Mingenew, Dowerin, or Newdegate for any of our large capacity water tanks ranging from 23,000L to 50,000L to qualify for the "Putting Challenge" giving you the chance to putt for some awesome prizes. Conditions apply, CLICK HERE for T&C's.
West Coast Poly will be proudly showcasing their range of products. Water Tanks from 320L to 50,000L litres, Liquid Fertiliser Storage up to 50,000L, Diesel Tanks, Cartage Tanks, Our FireGuard® range as well as pumps and accessories. Our solid, heavy-duty stock troughs are hard to go past, and our Mixing Tank is a must see.
See first-hand West Coast Poly's new Cartage Tank Range. The new cartage tanks range from 600L to 17,000L and give growers a superior choice for water, liquid fertiliser and diesel. They offer quality fittings, optional skid frames & pump kits, and can be fitted out to requirement.
Customers can be assured of a top-quality, well-designed product.  Local manufacturing at its best!

MINGENEW – Site 137 & 138  |  Wednesday 9th & Thursday 10th of August
Welcome to the Mingenew Midwest Expo, the country town of Mingenew once again opens its doors for the Annual Mingenew Midwest Expo, the largest Agricultural trade exhibition in the Midwest. 2023 will see the field day return to two full days, in the heart of wildflower season with the crops in full bloom, explore your own backyard. With Camping and accommodation available, there's no excuse you shouldn't be heading to #Expo23!
DOWERIN – Sites 328-330  |  Wednesday 30th & Thursday the 31st August
The Dowerin GWN7 Machinery Field Days attracts around 700 exhibitors annually showcasing agricultural-related and general interest products and services to more than 24,000 visitors. The Dowerin Field Days are the largest and most widely recognised agricultural event in Western Australia. With a proud 58-year history the Field Days is a vital information highway and one stop shop that celebrates agricultural and community prosperity.
NEWDEGATE  |  Wednesday 6th & Thursday the 7th September
From the first Field Days in 1973, this iconic event has grown to become one of the most renowned and recognised in the Eastern Great Southern of WA. With more than 300 exhibitors, focus is on providing both a unique and fulfilling experience for all who attend and exhibit, with something to interest all members of the family, no matter what age. Machinery, technology and research, animals and livestock, outdoor and camping exhibits, arts, fashion, show bags, food and wine, local produce, live entertainment, and much more. Newdegate Machinery Field Days.